THE TOTALCONNECT ADVANTAGE
Totalconnect has been delivering SIP trunking services for over 8 years. We have built our reputation on the flexible, reliable and cost-effective manner in which we deliver SIP Trunking solutions and provide savings of 20 to 50% over traditional service providers. You can rest assured these savings do not come at the cost of reliability or quality!
Totalconnect constantly tests and updates our equipment to bring you high quality services and business phone systems that can grow with your business.
CARRIER-CLASS SERVICE
Complete access to Totalconnect's network covering over 1000 Canadian centres.
Redundant voice network built on carrier-class technology.
Peace of mind thanks to Totalconnect's exclusive Surecall feature.
Full Local number portability*, E911** and 411 directory listings support.
Complete network readiness-assessment prior to deployment.
Premium setup option to ensure full compatibility with customized systems.
*Some limitations may apply, contact us to see if your number is portable
**Important: please review E911 services information
Custom Design
Totalconnect will perform a Business Process Review that can show you how a custom designed telecommunications system will improve your communications and lower your operations costs.
Full Service
Every system we set up comes with a full service agreement. We are there for you from setup through training, changes, questions and upgrades.
Features and Flexibility
Totalconnect provides a wide range of features and amazing flexibility at a great price.
Fully Featured PBX
Totalconnect's PBX provides you with a fully customizable telephony solution specifically designed for you.a
High-Speed Internet
Totalconnect provides a high-speed Internet connection in conjunction with your phone services, creating a single solution for your communication needs.
Email Services
Totalconnect can manage your email services on our own servers cutting your internal costs.
Secure IP FAX Services
Totalconnect can provide your organization with secure fax solutions. From two way virtual/paperless FAX to ATA solutions for your traditional fax machine, Totalconnect delivers a 100% Secure, 100% Canadian solution.
Our paperless fax solutions provides you with your own dedicated fax number for fax in and your choice of fax out via email (FAX2PDF services) or fax out via print to fax for windows based software (Print2FAX services).
Our ATA solution is our "little blue box" which connects your fax machine to your internet connection with its own dedicated fax number, allowing you to continue to make use of your traditional fax machine on internet based services. Contact us for the best solution for your faxing needs.
Hosted/Virtual PBX
Totalconnect can provide a fully featured PBX that is hosted in our own servers co-location.
Comvida Cloud Hosting
Totalconnect is pleased to provide this premium hosting product, specially discounted for the not for profit Health Care segment.  For more details on our Comvida Cloud Hosting Service please visit our Comvida Page.
Web Hosting
Totalconnect can host your website(s) on our own servers helping you save.
ADVANCED FEATURES AVAILABLE TO YOU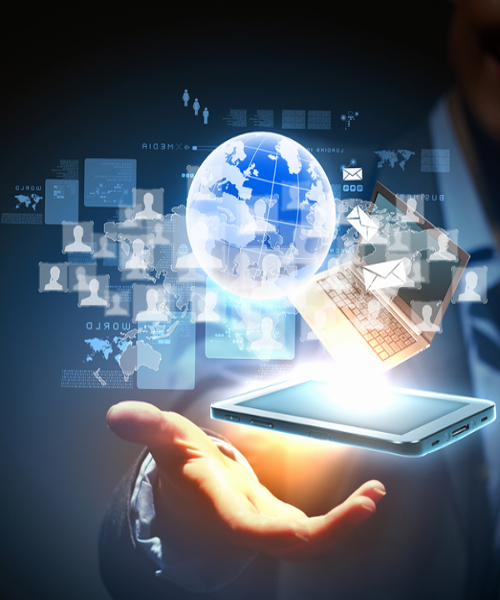 Auto-Attendant/IVR
A completely customizable Auto-Attendant to manage all your calls. Totalconnect's IVR is a sophisticated auto-receptionist with answering rules, call screening, call recording, call forwarding, voice-mail to email and more. We assist in setup and can even provide professional voice talent for your recordings. *Professional voice talent fees apply*
Voicemail to Email
Have all your voicemail forwarded to your email, not just to keep you up to date but also for personal storage and easy review.
Follow Me Roaming
Integrate your mobile device with your business phone system – ring it in tandem with your desk phone, or even use a "softphone" on your laptop as an extension on your business phone system, helping you create a truly mobile office – your office is wherever you are.
Remote Office Integration
Whether you have staff who work at home or on the road, Totalconnect can provide a solution integrating your out of office staff into your Business Phone System.